e-Business Transformation


Challenges for the Communications Industry
Introduction
Organizations in every industry segment are taking initiatives for transforming into e-businesses as they try to morph themselves into units that are better equipped to survive the new millennium. They are figuring out new ways of doing business by executing business processes faster or better using the Internet. But what does this mean in the context of the global communications industry? Why is it necessary? What are the requirements for a Communications Service Provider to bring about e-Business transformation? These are the answers we will seek in this Whitepaper.
The global communications industry, growing at a furious pace and feeling the heat of intense competition needs fundamental shifts in business strategies to survive and flourish.
The consumer ISP market in the US is seeing its margins fall to near zero. Free ISPs are gaining subscribers in large numbers. Mid size ISPs are adopting strategies that require a scorching pace of acquisitions to help consolidate their position. And the action is shifting to the Business ISP market, which requires complex services such as DSL and high-availability Web hosting. The CLEC market in the US (and the competitive wireline market globally) is poised for tremendous growth, primarily driven by focusing on data services. Improving customer response is closely tied in with building OSS interconnections on the supply side with ILECs and with partners (such as ISPs offering DSL Internet access) on the demand side. As new Wireless operators emerge to bring wireless services to about 25% of the global population (by 2005), they have the same "time-to-market" issues - how to deploy real-time customer interaction solutions and value-added services rapidly.
Together, they have successfully created a new generation of customers who get more choice at lower prices, expect superior customer service and a richer interaction over the web and newer devices such as the mobile phone.
How does a Communications Service Provider engage such a customer profitably? And then ensure that the competition does not snatch her away? At the core of e-business transformation is finding better answers to these two questions.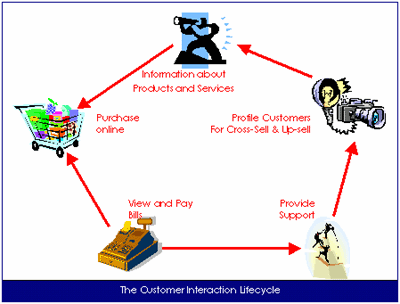 The principles for e-business transformation
Managing customer relationships holistically through its entire cycle - from informing customers about products and services, to enable them to buy products and services online and provision them in real-time, to providing support for service problems and billing enquiries, to profiling customers to cross-sell and up-sell and to use these profiles to deliver better services at cheaper prices.
For e-Business transformation, there are two principles to work on:
To present a relevant, unified view of all customer information ON THE WEB and all other points of customer interaction for the customer, the call center agent and partners. This would ensure a richer experience for the customer and an opportunity to cross-sell and up-sell for the agent.
To ensure all customer interface processes are automated across functions, business applications and partners in a flow-through manner. This ensures that customers get faster response times and the costs of customer operations are drastically reduced.
The IT strategy and target architecture for the OSS should be oriented to deliver on these two principles.
Requirements for an e-Business Solution
Time-to-market
Speed is of utmost essence. For new operators, the faster the e-business solution is deployed, the faster they can start their operations. In an increasingly crowded market, start-ups will need their e-business solution to be the platform for delivering superior customer service. Incumbents will look to deploying their e-business solution faster to get the same edge in customer management that the new players provide. Therefore, it is necessary for solution providers to look at delivery periods of a few months only.
Business Functionality for the Communications industry
The e-Business solution should cover all customer interaction functions. It must be communications industry specific. It must understand and account for the complexities and nuances involved in, for example, ordering DSL Internet access or getting a customer to view a bill and pay for it over the web.
Robust and Scalable Web application infrastructure
Current customer operations require only at best hundreds of users of different OSS applications. When customers, dealers and suppliers come over the web, the systems will be hit with thousands of concurrent users. The solution must ensure the availability of application server technologies, which will handle such large number of users. As the number of online users grows, the system should scale up easily.
A Flexible Integration Model
Customer interaction processes span across multiple applications. If you take an order management process at the simplest level, one would require to enter customer details in the CRM application, do a credit check on a credit check system, provision the service at the network and finally create an account in the billing system. In this scenario, flow-through automation of the order management process requires integrating 4 different applications. Applications in the OSS typically have proprietary operating environments and hence the integration model needs to be able to get together many disparate systems. In addition, in today's dynamic market conditions business policies change frequently. Mergers and acquisitions need systems to be integrated rapidly. Hence a flexible model for integration is required.
Tools and technologies for rapid deployment
Time to market is one of the most important requirements. E-Business solutions have to be up and running in a matter of only a few months, not years. Therefore tools and components that bring most required business functionality out-of-box and allow rapid integration with legacy environments are a must.
Open, Internet Standards
The e-business solution will perforce change over time. It will require new functionality, integration with newer systems and a wider co-existence with other partners in the value chain. By definition, the technology needs to be built using Internet standards such as Enterprise Java Beans, JHTML and XML. In fact, XML is today the standard technology used for business integration.
Protection of existing investments in OSS applications
Communications providers will not throw away millions of dollars of investment in their current OSS. The solution cannot replace the existing OSS. It must extend the power of the systems already in place.
The US Interactive e2e Solution
The e2e Solution enables communications service providers to transform into e-businesses rapidly. There are 4 key components of the e2e Solution:
eViews. The solution delivers an Internet Portal from which a relevant, unified view of the customer's complete profile can be built for the customers to do self-service and for agents and partners to interact with the customers. They encapsulate the business functionality required in the customer interaction process. The e2e Solution provides out-of-the-box support for ISP services, data services such as DSL, local and long distance services, Wireless services, pre-paid and post-paid cards etc.
e2e Hub. The e2e Hub is the infrastructure, which integrates customer information and customer interaction processes from the OSS applications and presents a single, unified view on the web. The Web infrastructure provides a robust and scalable platform to support the demands of thousands of users who would come over the Web - customers, partners, and agents. The Integration Infrastructure provides a flexible and reliable, process-based integration model that allows back-end applications to be integrated in the context of customer-facing business processes.
e2e Connectors. These are pre-built components that allow connectivity with major OSS applications - Billing systems, CRM applications, Order Management systems, Provisioning systems and OSS interconnection gateways. By providing packaged connectors, the e2e Solution provides rapid integration of these major applications with the Web. US Interactive has proactively built service-rich connectors for the following systems:

Billing - Portal Infranet, Kenan Arbor BP. It is also proactively building connectors for LHS, Amdocs and Daleen.
CRM applications - Vantive, Siebel and Remedy. It is also proactively building connectors for Remedy.
Order Management Systems - Kenan Arbor OM. It is building connectors for Eftia as well.
Provisioning Systems - Connectors for Comptel and Architel are being built.
OSS Gateways - Connectors for Covad and NightFire.

e2e Tools. These provide the ammunition for rapid integration. The Business Process Designer allows distributed processes to be modeled for integration. It is a visually driven, easy to use component that allows business analysts instead of programmers to build the integration. The Connector Development Kit provides the necessary components to build integration with custom and legacy applications. It provides configurable connectors for files, databases, middleware platforms, CORBA etc. It also provides C++ and Java APIs.
Benefits
Reduced Time to market
With 80% of the solution already pre-built for the communications industry, the e2e Solution can help deliver the e-business solution with drastically reduced time and effort. It means lower costs of deployment. But more importantly, it means the organization can start reaping the benefits of the solution faster.
Lower costs of customer acquisition and retention
By automating key customer interaction processes and enabling customers to do self-service across OSS applications in real-time, the e2e solution reduces the number of people and the amount of time required to execute these processes. It results in significant reduction in costs of call center operations, sales, billing and order management.
Enhanced Customer Loyalty
A single point of contact for all touch points (the web, the call center) and the availability of all customer information delivers a superior level of service experience every time. Leading to delighted customers that are sure not to move to the competition.
Protects investments in existing systems
The e2e Solution approach is to extend the life of existing systems not replace them. As a result, the millions of dollars that communications organizations have invested in their OSS do not go waste.
Increased Revenues
The e-business infrastructure provides the platform for delivering value-added services that create new revenue streams by delivering content, communication and commerce capabilities to a host of communications devices that customers use. As a result communications organizations transform from being just transport mechanisms to being the transaction platforms.